Tag Archives:
Lee James Floral
I always LOVE capturing weddings at Bella Collina, because it is like being swept away and transported to a Tuscan villa in Italy. When Nicki and Matt asked me to capture their wedding day I was thrilled to be able to work with them and Bella Collina again. Nicki had planned a vintage-themed wedding focused around "Love is the Key". She and her wedding planner, Maria Balestriere from Blush by Brandee Gaar included the most amazing details to go along with her theme. The tables had vintage door knobs with key holes and each guest had their own vintage key attached to their name card. The place card holder was a covered in wood and lace and held each of the guests names. The cake by Priscilla Lucas at Party Flavors Custom Cakes was ivory with lace accents covering the tiers. Lee James Floral Designs  stunned the guests with beauty by covering the entire area where the bride and groom stood to exchange vows with white rose petals, alongside two beautiful towering arrangements.
The bride had a vintage rose bouquet that was so romantic and lovely. We stole away and captured some amazingly beautiful portraits around the fountain area as well as the old rock wall near the towering oak trees. Bella Collina has such a variety of gorgeous scenery, you can get so many different looks for your wedding portraits.
The reception area was beautifully lit by Get Lit Productions and Phil from Soundwave Entertainment was the DJ for the event. It was a pleasure working with this amazing team of vendors as well.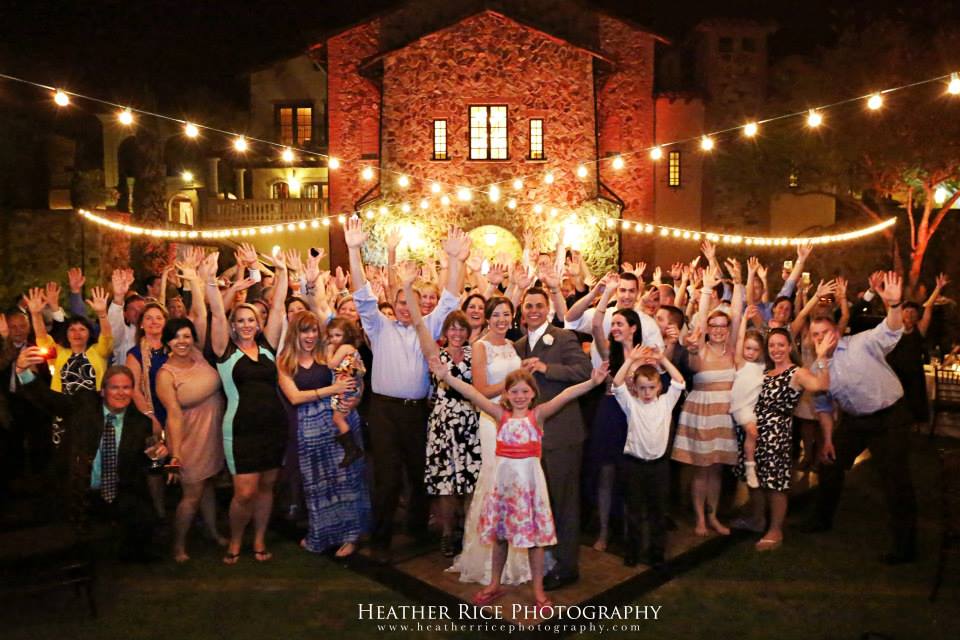 Enjoy the sneak peeks of their beautiful wedding day.
AMAZING VENDORS:
Bella Collina Golf and Country Club
Soundwave Entertainment, DJ Phil
Get-Lit Productions
Party Flavors Custom Cakes
Lee James Floral Designs
Blush by Brandee Gaar – Wedding Planner, Maria
Heather Rice Photography
Make-up by M3 – Makeup
VIP Transportation Group
The best things come from collaborations and this is especially true of the vendors who contributed to make our Casa Feliz stylized photo shoot a success. I was so honored to work with amazing vendors like, The Pastry Studio, Lee James Floral, True Envy Salon, Melissa Hinds lead Wedding and Event Planner from Once Upon a Wedding, Minerva's Bridal, Kirby Rentals, Scott Adams, Annarose Krone, and Barefoot Empire Films.
I was amazed with all the vendor contributions to our collaborative effort. I called Lee James, and he agreed to contribute the flowers. Thomas, from Lee James Floral brought over the most beautiful floral table centerpieces and glass decor, and a stunning bridal bouquet, complete with rhinestone accents in each rose. Melissa Hinds, worked tirelessly to bring together the table linens, decor and organized the photo shoot with me. She is an amazing wedding and event planner and I am so thankful for her hard work and effort in bringing the creative vision behind the shoot to life. The Pastry Studio arrived with the most gorgeous 3-tiered elegant cake, which looked amazing amidst the pop of blue accents of the Casa Feliz house.
Trish and Ramar and their team of hair and make-up professionals from True Envy Salon really did a fantastic job on the hair and make-up looks and especially the vintage hair piece and look. Those models looked amazing! And, speaking of models, what can I say about Scott and Anna? They are both amazingly talented and naturally gifted at what they do. I was honored to be able to work with models of that calibre. Stanley and Enrico, from Barefoot Empire spent the morning filming the behind the scenes reel. Check it out Behind the Scenes Casa Feliz.
A BIG "thank you" to everyone who helped out that day. It was a dream team, for sure. Looking forward to future collaborations. I love the images from the day! Take a look and leave some comments!