Photographer's Confession #1:
I always have a hard time making it through the mother/son dance at the wedding without bursting into tears myself…I can't help but picture the day, sometime in the future, imagining myself dancing with each of my boys as they get married. I always especially love the song choices for this dance. One of my all-time favorite dances was at the wedding of my bride and groom, Tommy and Nicole Downey Edwards and the DJ played "A Song for Mama" by Boys II Men…I wept that entire dance as Tommy and his mama embraced and cried together on the dance floor! What a moment! 
Francisco José Expósito-León and Amanda 'Kaydence' Ferree were recently married at Casa Feliz in Winter Park, Florida,
Mother Son Dance
and I was so moved by his mother's emotional expressions as she danced with her baby boy. It's a moment every mother of a son will understand, right along with me.
So the next time you see me at the wedding and the mother/son dance is approaching, you might want to grab me a tissue…I'm gonna need it!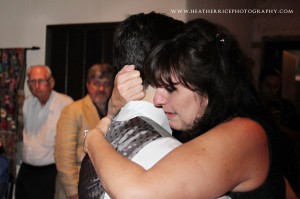 Mother Son Dance Wedding